Open Air Museum of Szenna
The Open Air Museum of Szenna, awarded by the Europa-Nostra Award is uniquely situated in the middle of a living village. It aims to showcase the varied culture and way of life from Inner Somogy and Zselic areas, and to protect and preserve the spiritual and tangible heritage of settlements in its neighbourhood. Educational programs, events, living museum venues and traditional programs on weekends can help visitors enrich their own experiences, which in turn can have an impact in transferring their current way of life. One can live through one-time female and male roles, can discover traditional architectural techniques, can learn how to create a compost, or even a herbal garden, since the Open Air Museum of Szenna considers its role to help utilize our traditions in the 21st century. The reformed church with painted wooden boards on the ceiling, built in 1785, being the most beautiful national monument of Somogy County is located on the museum premises. The church continues to play an active role in village life of Szenna today.
Open Air Museum of Szenna Szenna, Rákóczi street 2. Tel.: 82/584-013; 30/894-7269

E-mail: szenna@sznm.hu
Opening hours: Apr. 1 – Nov. 2: Tue–Sun., 09:00-17:00, Nov. 2- Mar. 29: closed on weekdays, Sat-Sun: 10:00-16:00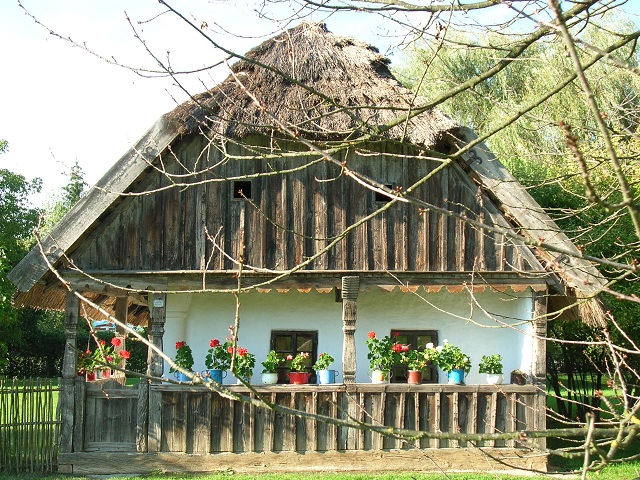 Museum of Rippl-Rónai
The Museum of Rippl-Rónai is preserving and conveying cultural, scientific and artistic values of Kaposvár and Somogy County. It's operated in the centre of the city in a historic building in classicistic style. The basis for the exhibitions is the classification of specialities engaged in the research and collection work (natural science, archaeological, modern historical, ethnographical, history of art). Permanent exhibitions: Collection of Ödön Rippl-Rónai, Chapters from thnography of Somogy county, Our natural heritage, Treasures from Somogy. Besides the permanent exhibitions, visitors can enjoy temporary exhibitions as well as museum educational programs and events.
Museum of Rippl-Rónai 7400 Kaposvár, Fő u. 10. Tel.: 82/314-011
E-mail: titkarsag@smmi.hu
http://smmi.hu/
Opening hours: April 1 – October 31: daily 10 am – 6 pm
November 1 – March 31: 10 am – 6 pm daily,
closed on Mondays.

Memorial House of Rippl-Rónai
The Villa Roma, sight of Kaposvár is famous across Europe. It used to be József Rippl-Rónai`s home. Each corner of the Museum as well as the connecting atelier is preserving the heritage and spirituality of the famous artist. Since 2012, the new underground visitor centre is available with wheelchair accessible reception area and a souvenir shop. The reconstruction of the Andrássy Dining Room, one of the first art nouveau interiors, is an award winning exhibition piece of the visitor centre.
Memorial House of Rippl-Rónai 7400 Kaposvár, Róma-hegy Tel.: 82/510-049
http://smmi.hu/
Opening times: April 1 - October 31,daily10.00 am – 6.00 pm.
November 1-March 31, daily 10.00 am – 4.00 pm.
Closed on Mondays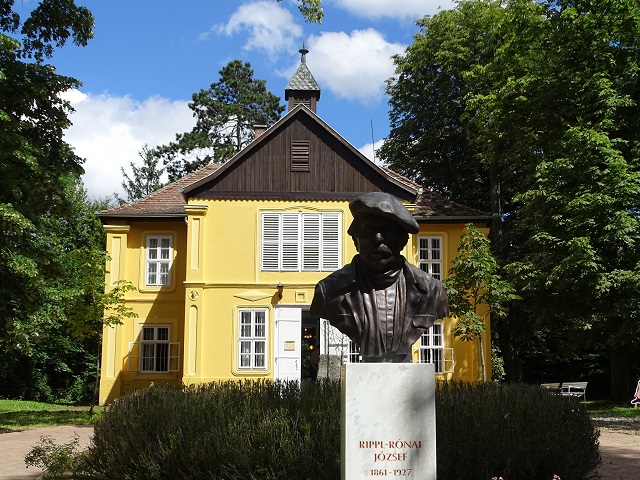 Együd Árpád Cultural Community Centre
The community centre – previously known as the junior centre – is one of the most important cultural institutions in the city, where visitors are welcome to join various activities. The institute is housed by the AGORA building constructed in 2011 and satisfying all needs of today's environment. The centre organizes the following festivals and events: the Kaposvár Carnival and Dorottya Days, the City of Painters – Festival of Ambiance, the Theatre Nights in Summer and the Kaposvár Advent – Christmas Holiday Weeks. The institute is also managing the beautifully renovated Rainbow (Szivárvány) Palace of Culture, the Benedict Abbey Ruins in Szentjakab, as well as the various district community centres. Tickets for the events, concerts and festivals organized by Együd Árpád Culture Community Centre can be purchased in the tourist office of Kaposvár.
Árpád Együd Cultural Community Centre 7400 Kaposvár, Csokonai u. 1.Tel.: 82/512-228
E-mail egyudmuvhaz@somogy.hu
www.egyud.kaposvar.hu
Opening hours: 9.00–20.00 Mon-Fri, 09.00–18.00
Sat., closed on Sundays.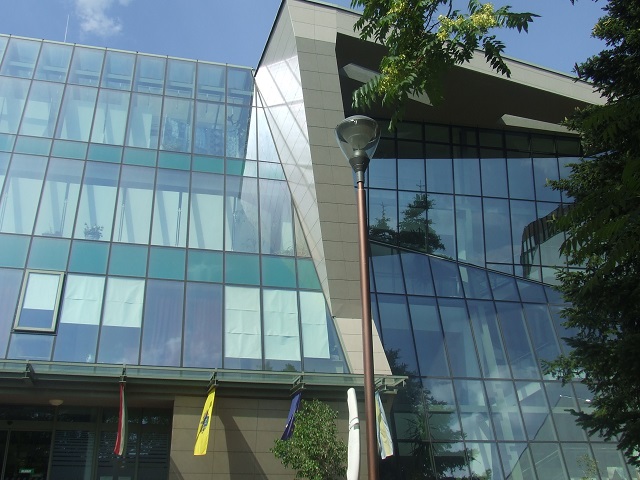 Rainbow Palace of Culture
The Rainbow Palace of Culture, designed by Mr. József Lamping, architect, is one of the most beautiful among the buildings of Kaposvár reflecting an ambiance of late secession. The pleasant interior of the building, of Art-deco architectural style, is richly decorated with Egyptian ornaments. The building, originally called Motion Picture Theatre of the City, opened in 1928 and it was one of Hungary's most elegant and oldest cinemas. Following recovery work finished in 2010, it became a worthy location for cultural and art events in town, various conferences and, keeping its original function, the "Rainbow Film Club". The building is under protection since 2009, became a national monument, any towns in the world could be proud of such a motion picture theatre. According to Hungary's architectural guide: " This monumental building in artdeco
style can hardly be compared to anything in Hungary."
Rainbow Palace of Culture
Kaposvár, Noszlopy Gáspár utca 1. • Tel.: 82/510-892
Opening hours: weekdays – 11:00-19:00,
weekends: 1 hour prior to start of events
http://www.szivarvanykulturpalota.hu/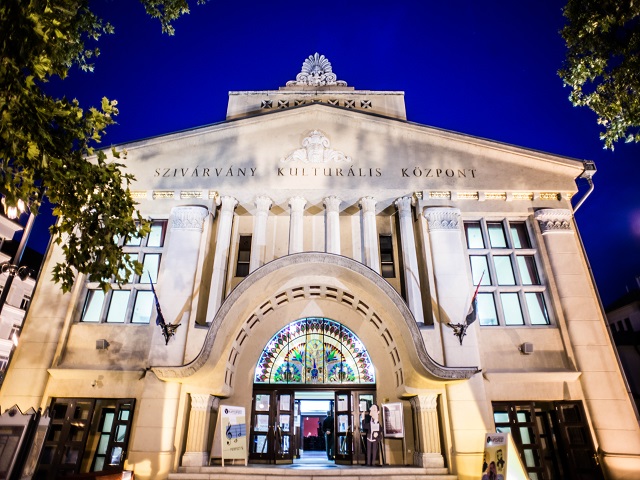 Ladybird Farm – Active Recreation Centre
The Ladybird Farm is a real adventure paradise, providing excellent recreation, education and adventure throughout the year to all ages. Among the numerous indoor and outdoor facilities we must highlight the giant indoor freefall and family slides, as well as the multistorey kid's playhouse and adult's labyrinth; these slides are the largest constructions of such across Central Europe. The medieval castle and the wooden trebuchet are providing temptation to travel through time. Anyone can use our rope-ways and zip wires, which consist of 5 different tracks, depending on state of fitness or courage. On our racetrack, visitors from 3-103 years of age can pedal our gokarts. We introduce various domestic and traditionally kept animals in their natural environments, along with the traditional tools used for farming and animal keeping. We offer our visitors a unique selection of 50 different program opportunities in handicrafts, environmental knowledge, tradition-preserving or agricultural areas. It`s an everyday possibility to join in for cow-milking, animal handling, pebble stone
decorating activities or using the playhouse, the jumpy strawbarn, the old machinery park or the pedal gokarts. On weekends, bread kneading and baking, traditional crafts and programs connects our guests to heritage preservation. Accommodation is available for 120 guests in 2 tourist houses, 80 tents in our campsite, and in addition to the above, from spring to fall we offer 3 guesthouses with 20 beds altogether. We strongly believe in and advocate hands-on experience and edutainment
in everything we do in Ladybug Farm, focusing on preserving traditions, protecting our environment and providing sustainable solutions. We love kids and we do everything to ensure that our grandkids will have a liveable environment!

Ladybird Farm
7477 Patca, Faluvég Tel.: 30/411-6002
E-mail: info@katicatanya.hu
http://katicatanya.hu/